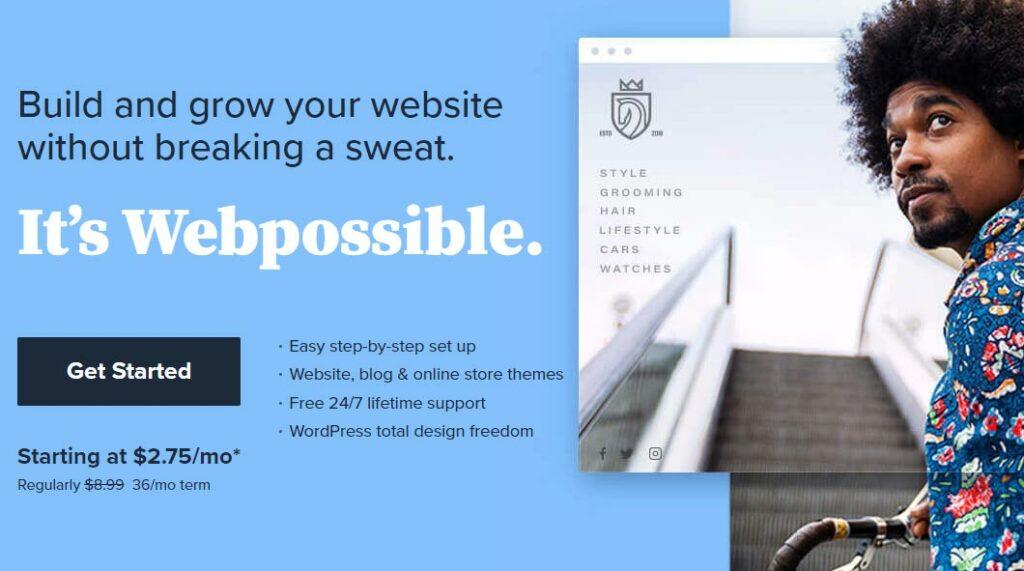 Bluehost Review
Bluehost Rewiev-Did you know that Bluehost provides hosting for over 2 million websites, ie blogs? But is Bluehost really that much cost effective web hosting?
So many websites, ie users who have it, prove that this is a quality web hosting, especially for WordPress. They have an excellent rate of uninterrupted operation, server speed, and are good for both beginners and advanced ones.
Today I decided to show in this Bluehost review what Bluehost web hosting is like, how much it costs, what your experiences are, and whether Bluehost is the best choice for your first website.
Bluehost Review: Basic Information
Website: Bluehost.com
Speed: about 700ms
Continuous operation time: 99.96%
Support: 24/7 Live Chat, Phone, Email, Knowledge Base
Hosting: Shared, VPS, Dedicated
Free SSL: Yes
Free Domain: For the first year.
Price: from $ 2.75 / month
My rating: 9/10
Bluehost is a web hosting company that has been in business since 1996, and since then they have expanded their business to literally the entire world. Today, they provide hosting for over 2 million websites.
Also, Bluehost is officially recommended by WordPress.org. It is just proof that their services are fast and high quality.
Bluehost review prices
When buying bluehost Shared Hosting, you can choose between 4 packages (prices refer to the monthly level):
BASIC (from $ 2.75) – 1 website, the best hosting for all beginners and those who do not need more websites. The best value for money on the market. It also includes: Free domain for the 1st year, and free SSL and CDN, and 5 E-mail accounts.
PLUS (from $ 5.45) – the best choice if you need hosting for multiple websites. It also includes a free domain, SSL and CDN, and MS Office 365 for 30 days
C/HOICE PLUS (from $ 5.45) – everything and PLUS package, plus you get Free Domain Privacy and 1 Automated Backup
PRO (from $ 13.95) – a package for very large websites, you will probably never need this. This package provides additional speed with optimized resources.

Advantages of Bluehost-Bluehost Rewiev
The biggest advantage of Bluehost is certainly the price and its affordability, which has made it one of the most popular web hosting, especially when it comes to new websites.
But let's see what are all the benefits of Bluehost web hosting.
1. The Perfect Price For Beginners
If you want to build your first website, Bluehost is the best choice for you.
The smallest package has everything you need to successfully build your first website, which can serve you for a long time: 50 GB SSD data storage, unlimited page traffic, free SSL certificate, free CDN, etc.
When you're just starting out, you don't need web hosting that can withstand 1,000,000 visitors and the like. If you ever need it, the least of your problem will be to change the hosting and pay for it more expensively.
With a starting price of $ 2.75, I think it has no competition, especially when we look at the other benefits of this web hosting.
2. Excellent Continuous Work Time (99.96%)
Sometimes web hosting happens to stop working for a short time. Mostly no one even notices this, but it's always good to have the server uptime as high as possible so you never have a problem.
A good score for server uptime is 99.93%, and Bluehost achieves 99.96%. It may not seem like much, but it's actually a big difference, so Bluehost is very good in this area.
3. Page Load Time (700ms)
Page load speed is very important, both for Google and for visitors to your page.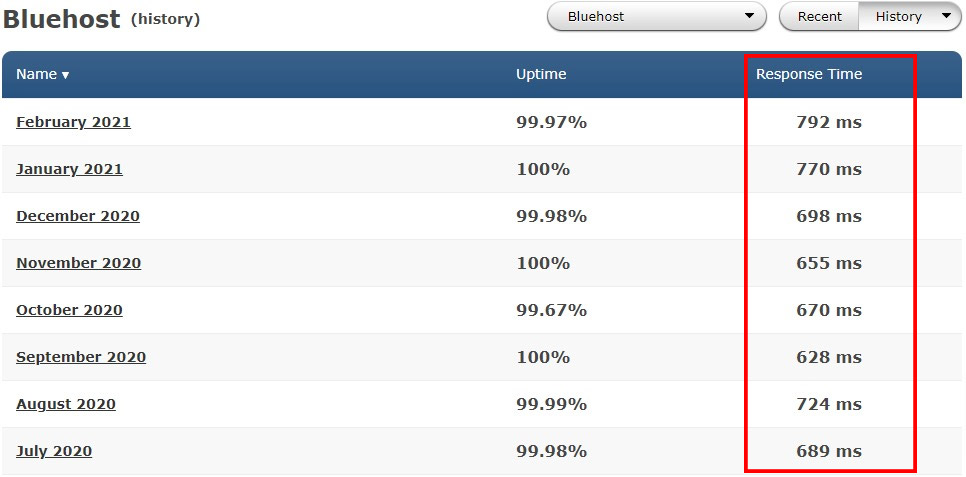 If the page loads too slowly, there is a good chance that a potential visitor will simply leave the page without even looking at it.
As for the loading speed on Bluehost, it is more than enough – only 700ms.
4. Easy To Use
Ease of use of anything is always important, including for web hosting, especially if you are a beginner and do not get along too well in these waters.
Installing WordPress through cPanel is very simple, you can install WordPress with just one click, and it is ready in 30 seconds.
If you don't want WordPress, you can choose between a website builder or your own code, so that area is also covered.
5. Non-stop Support
If you need any help with your site or hosting, you won't have a problem with Bluehost.
Their support is active 24/7 via live chat, and they are very cultured and answer all questions quickly.
6. Refund in 30 Days
If you are not satisfied with the hosting, Bluehost guarantees that it will refund you if you cancel within the first month.
Certain items are not refundable:
You only get a refund for hosting
If you get a free domain, you will be charged $ 15.99 when you refund
Bluehost only accepts refund requests for the first 30 days of registration
I think this is transparent enough, and I believe you will agree that conditions like this are OK.
7. Official Web Hosting For WordPress
Bluehost is the official web hosting for WordPress.org – the most widespread CMS platform for building websites.
Most of the websites you see today are made in WordPress, so this is also the best platform to build a website or blog.
Cons of Bluehost – Bluehost Rewiev
Bluehost is one great web hosting, but it still has some flaws that I think might interest you. So let's see them.
1. Higher Prices When Renewing Hosting
After the period you bought for the first time expires, when you need to renew hosting, the prices are a bit more expensive.
However, I still think that they are not too big even then, because they are still in the range of affordable hosting packages.
2. Slightly "Poorer" Cheapest Plan
This is not only a disadvantage of Bluehost, but of almost all web hosting, especially when it comes to such a low price ($ 2.75 per month).
While the options you deny in the cheapest plans generally won't affect a website's performance, it would be good if there weren't any at all.
At Bluehost, in the cheapest package, the limit is that you can only have 1 site, 50GB of data on the website (more than enough), and they only have SSL from security certificates.
But, I repeat, this is still more than enough to successfully run a website.
Bluehost: My Experience
As for my experience with bluehost, I had a website a few years ago, and I used Bluehost for hosting. I have to tell you that I was very pleased and that I did not have any problems.
What's even more important is that I was a total beginner, and yet everything seemed pretty simple to me and I didn't bother while I made my first website